UK/CANADA: Tar sands crude is reaching British petrol stations, Greenpeace says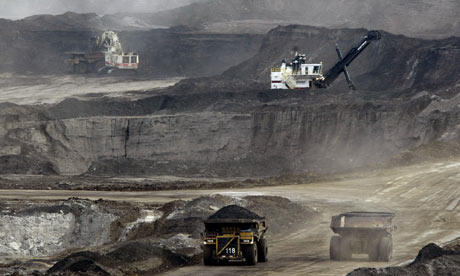 British motorists are unwitting users of diesel and petrol derived
from the tar sands of Alberta, Canada, where carbon-heavy production
methods make extraction particularly damaging to the environment,
Greenpeace claims.
The environmental group is calling for action
by the European commission to strengthen fuel-quality directive
regulations to restrict the import of petroleum products made in a
carbon-intensive way.
The move comes as the tar sands producers
appear to be trying to use the BP oil rig disaster in the Gulf of Mexico as a public
relations tool to promote their industry over deepwater drilling.
In
a report out on Tuesday Greenpeace says that it has spent time tracking
tar sands crude over 12 months and believes that considerable
quantities are now being exported to Europe, via refineries in the
southern states of the US.
While City investors have begun to
question the role of companies such as BP and Shell in the tar sands business,
British environmentalists - and consumers - have tended to believe that
Alberta crude is used only in North America.
But the Greenpeace
report, entitled Tar Sands in Your Tank: Exposing Europe's role in
Canada's dirty oil trade, comes to
different conclusions.
"The reach of tar sands crude is wider than
previously thought. In fact, petroleum products derived partly from tar
sands crude oil have been regularly entering the European Union's
petroleum supply chain," it concludes.
The environmentalists
believe this practice will become more widespread. One company claimed
to be at the centre of the trade, the US refiner Valero Energy, plans to
increase supplies at its Port Arthur refinery significantly via a
controversial new pipeline from Canada to the US Gulf coast, where the
BP-leased Deepwater Horizon rig sank, causing a huge oil leak.
Greenpeace
also believes that BP has refined at least one consignment of tar sands
crude at the Texas City plant on the same coast, which is a regular
location for exporting diesel to Europe.
The rival oil producer
ExxonMobil is also handling Canadian tar sands at its Baytown refinery
near Houston and has exported at least one diesel shipment to Europe
over the period studied, according to Greenpeace.
The green group
admits that it cannot ultimately prove that any particular consignment
derived from Canada ended up in Britain or Europe, given that refined
diesel or petrol is of a uniform quality, but it says that the weight of
evidence firmly points in this direction.
Exxon said that it
could not comment on tar sands refining or exporting.
"The crude
oils we process at our refineries come from a variety of sources around
the world," said a spokesman. "However, what types of crude are
processed at each refinery, how much, and when are all details that we
do not discuss publicly as a matter of practice."
Valero confirmed
that it was part of a project to expand the Keystone pipeline from
western Canada down to the US Gulf Coast. "Once the Keystone pipeline
expansion is complete in 2012 or 2013, Valero expects to be one of the
largest recipients of heavy crude oil from the project," a company
spokesman said. He added that much of that oil would be refined at Port
Arthur, which is geared up to process heavy crude.
Valero also
confirmed that its refineries were exporting diesel to Europe, but said
that: "Exports of gasoline [petrol] from the US to Europe are rare,
since Europe usually has an oversupply of gasoline."
BP, which is
investing heavily in tar sand production and upgrading refineries near
the Great Lakes specifically to refine this crude, had no comment to
make on any existing exports.
Glen Schmidt, chief executive of
Laricina Energy, part of the industry lobby group In Situ Oil Sands
Alliance, told the Edmonton Journal in Canada that while there were
sometimes failures with conventional oil and tar sands projects, "the
damage would be much smaller and more modest than with offshore spills".
Similarly
an editorial in the Calgary Herald said: "Anyone assessing the risks
associated with drilling offshore versus the oil sands is going to be
looking at things much differently today than he would have last week.
All of a sudden it's a choice between risks that are quantifiable versus
those that are unknown."
104 Globalization
183 Environment
190 Natural Resources
208 Regulation